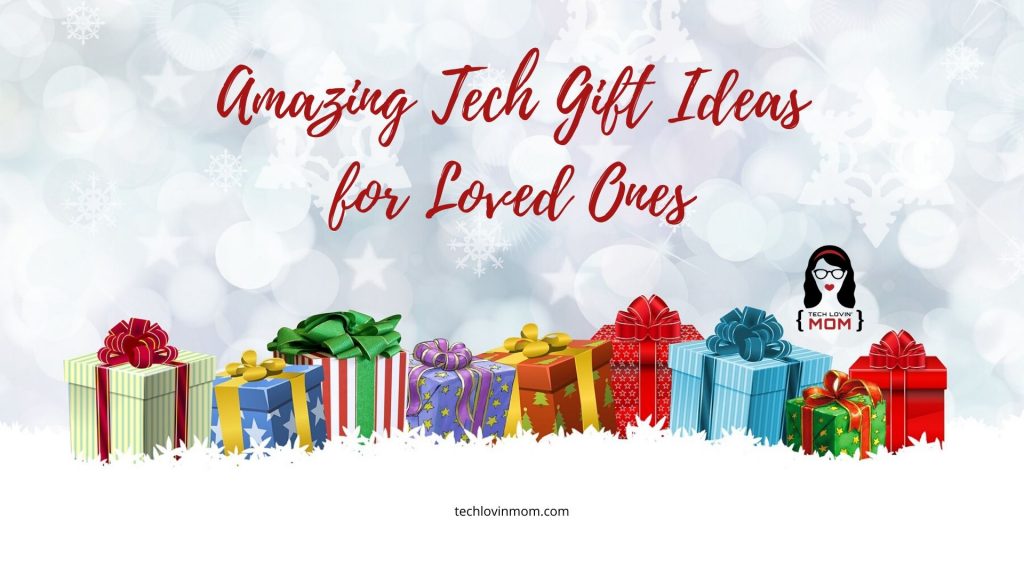 Are you looking for some amazing ideas for the tech-savvy person in your life? As a person that loves all things tech, I can tell you that any one of these items would make someone that enjoys technology very happy. Many of these are also great gift ideas for the tech challenged as many things in the technology world exist to make life easier.
This post uses affiliate links. If you click on my links, I may receive compensation at no extra cost to you. Read my disclosure policy for more info.
Accell's Wireless Charging Pad
Accell Power's Wireless Charge Pad with five USB Ports and two AC outlets would make a great central charging station. This gives you the potential for charging up to eight devices when all ports and outlets are put to use. The wireless charging pad is for charging compatible smartphones (like the iPhone 8 and up) and other Qi compatible devices. The Charge Pad also has five USB charging ports. Two of them are optimized for Apple products, two are optimized for Android products, and one is universal. There are also two more 110V AC outlets that can also be used for charging more devices. Be sure to read my reviews of two of Accell's products in this Blog Post: Family Multi-Device Charging Station for Home
Apple AirPods with Charging Case
Any iPhone user would love Apple AirPods that come with a Charging Case. They are automatically on and automatically connected. They have high quality audio and voice. I have the Apple AirPod Pro version and they are wonderful.
Ring Video Doorbell
A Ring Video Doorbell would make a great gift for anyone that loves technology. The Ring Video Doorbell will alert you if someone rings the doorbell or if it detects motion outside your door. You can then speak with visitors at the doorbell through Alexa enabled devices. For an extra $3 per month, Ring will store the video footage from your doorbell should you ever need it for anything.
Amazon Echo or Echo Dot
I have an Amazon Echo and I love it as do my boys. Amazon Echo or the Echo Dot connects to an AI (artificial intelligence) named Alexa. Alexa can play music, make calls, set music alarms and timers, ask questions, control smart home devices, and much more. You can ask Alexa to check your calendar, weather, traffic, and sports scores, manage to-do and shopping lists, control your compatible smart lights, thermostats, garage doors, sprinklers, and the list goes on. You can connect an Echo in one room to Echo Dots in other rooms throughout the house to have a whole house speaker/intercom system. Around Christmas time, these are usually significantly discounted. To learn more about Amazon Echo/Alexa products check out these posts:
What is Amazon Echo?
Cool Things to Do with Amazon Alexa Skills
Amazon Alexa Easter Eggs Your Family Will Love
Amazon Echo Show
High on my list is the Amazon Echo Show. Think of this device like an Echo or an Echo Dot but with a screen. You can watch videos, movies or TV with the Echo Show. You can also see weather forecasts, calendars, to-do lists, and your favorite playlists. And you can make video calls to anyone with Skype, the Alexa app, or Echo Show.
iRobot Roomba 675 Robot Vacuum-Wi-Fi Connectivity, Works with Alexa, Self-Charging
How about an iRobot Roomba 675 Robot Vacuum with WiFi connectivity. It can be connected to any Alexa enabled device. It is self-charging and works great on hard floors and carpet.
FIXD OBD-II Active Car Health Monitor
I add this one to the list because we own older cars and sometimes we need to know why the check engine light is on. The FIXD OBD-II Active Car Health Monitor is a device that you can plug into your car and it will tell you with the iOS/Android app why the check engine light is on and will also let you clear the light. This device works with any gas-powered vehicle 1996 or newer (no all-electric or diesel).
Apple Watch
If you have an iPhone, you will love an Apple Watch. I have a Series 2 and Apple has just come out with the Series 4. Besides telling time, the Apple Watch can tell you the weather, has an activity tracker, works with many of the apps that you have on your phone. You can make and receive phone calls and texts on the watch. The new series has a faster processor, has added an electrical heart sensor to go with the optical heart sensor and has fall detection.
USBThere Cell Phone Charger Lock
This is a great gift for the parents of teenagers. Never lose their charger again! The USBthere Cell Phone Charger Lock actually locks your charging cord and cube in place with a special security screw. Lock it. Leave it. Love it! The charging cable that comes with the device is compatible with iPhones, Androids and Type C devices. The charging cable is also retractable to help keep your cords organized. Jake and I had a good time creating a video about USBThere. Check it out on the blog post: My Kids Keep Stealing My Phone Charger!
Accell 3 in 1 Fast Wireless Charger
Accell Power also has a 3 in 1 Fast Wireless Charger you might be interested in if you have an iPhone 8 or better. It would actually charge any Qi compatible device. The reason I say for iPhone 8 or better is that it will also charge an Apple Watch and has a lightning connector for Apple AirPods as well. The phone can be charged upright or on its side if you want to watch a video while it charges. There is also a cooling fan in the phone charger to keep the phone cooler while charging.
Anker PowerCore Lite High Capacity Portable Charger for iPhone, Samsung Galaxy, and More
The Anker PowerCore Lite High Capacity Portable Charger is a great external battery for cell phones and other electronic devices. This particular external battery is good for two and a half cell phone charges before it needs to be recharged. It is slim and light and delivers a fast charge.
CamKix Wireless Bluetooth Camera Shutter Remote Control for Smartphones
If you like taking pictures/selfies with your Smartphone, you need the CamKix Wireless Bluetooth Camera Shutter Remote Control. It is small and lightweight and comes with a wrist strap. It has a 30 foot range and works with Android and Apple iOS Smartphones.
Amazon Fire TV Stick 4K
The Amazon Fire TV Stick is great if you want to cut the cable TV cord or if you just want more options. This one is optimized for 4K Ultra HD streaming. It comes with an Alexa voice controlled remote. Watch favorites from Netflix, Prime Video, Hulu, STARZ, SHOWTIME, CBS All Access, and others.
Roku Premiere – HD and 4K UHD Streaming Media Player
While I love my Amazon Fire Stick, I still much prefer my Roku Streaming Media Player. The Roku also delivers 4k UHD Streaming. And it has many of the same features as the Fire Stick and includes many of the same apps. However, the Roku is just a little more user friendly, especially for anyone that is not quite so tech savvy.
RapidX X5 Car Charger with 5 USB Ports
With a tween and a teenager that also have phones, we sometimes struggle with charging phones on long car rides. This RapidX X5 Car Charger with 5 USB Ports will solve the problem. What is great about this one is that it has a cable that will reach to the back seat so that two phones can be charged up front and three more can be charged in the back seat. And it supports rapid charging.
SoundBot¨ SB210 HD Stereo Bluetooth 4.1 Wireless Smart Beanie Headset
Stay warm and listen to your music at the same time with the SoundBot SB210 HD Stereo Bluetooth 4.1 Wireless Smart Beanie Headset that includes headphones and microphone for phone calls.
Are there other tech gifts that you would recommend? Let us know in the comments below.