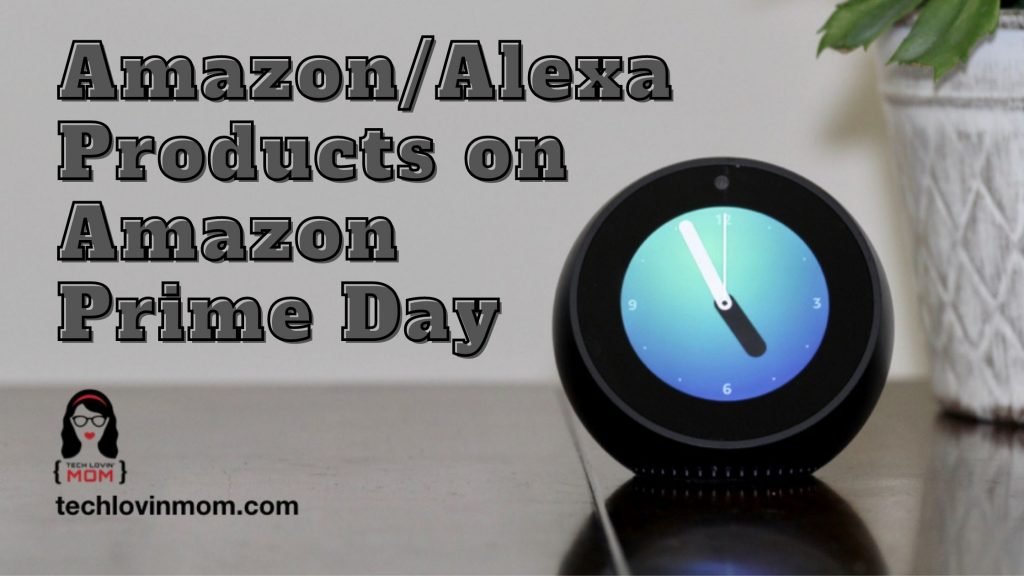 Amazon Prime Day is like Black Friday for Amazon Prime Members. It is a lot of fun trying to score the best deals with the deepest discounts. Some of the devices are as much as 60-70% off. Read on below for a few of the great products you can get on Amazon Prime Day. Not sure what an Amazon Echo is? Check out this post for more information: https://www.techlovinmom.com/what-is-amazon-echo/.
This post uses affiliate links. If you click on my links, I may receive compensation at no extra cost to you. Read my disclosure policy for more info.
First of all, it is important to note that you can only take advantage of these great deals by being an Amazon Prime Member. If you are not yet a member, use this link to sign up: Try Amazon Prime 30-Day Free Trial
One of my favorites is the Amazon Echo Dot. We have these in every bedroom and even the garage. We use them for everything from alarm clocks, adding things to the grocery list, listening to music, to using them as an intercom system. I have even used them to call the boys when they are at home and I am out. There are so many things these can be used for. It will blow your mind. Check out my post about adding Alexa Skills to your Echo devices: https://www.techlovinmom.com/cool-things-to-do-with-amazon-alexa-skills/
I have an Amazon Echo Show in my kitchen. It is like Echo Dot, but with a screen for pictures and video. If you use it to call someone, it can work like a video phone.
When we purchased our new house, it did not have a doorbell at all. We added a Ring Doorbell and we love it. It is especially helpful if someone comes to your door and you are not home. We also now know when we get our deliveries. But I even like to use it to talk to my family when they are outside and I am not at home.
If you need an alarm system, the Ring Alarm system is a good DIY choice. If you have a Ring Doorbell or Echo devices, they all integrate together. The kit comes in 5 piece, 8 piece or 14 piece set depending upon the needs of your home.
One of my absolute favorite Amazon devices is the Amazon Paperwhite Kindle. I have been using this one for several years. I love that I can read it in full sunlight and I can read it in the dark because of its adjustable backlight. I also like that I can adjust the font to a comfortable reading size. I can't tell you the last time I read an actual book.
Thinking about cutting the cable cord, a Firestick can help you accomplish that. We have two Firesticks in our house and we love using them for streaming Amazon Prime content, Hulu, and YouTube TV. We cut cable about three years ago and never looked back.
When it came time to install outdoor security cameras, we decided to go with Blink Outdoor Security Cameras. You can purchase them as single cameras or bundled in packs. We purchased a four pack for our property. They were super simple to install and use. We elected to purchase a Flash Drive with a large file size to store our footage on it.
Or if you prefer, you can get the Ring Security Cameras that work both indoors and outdoors. The Ring Security Cameras allow you to see, hear, and speak to people through the Ring app much like the Ring Doorbell we already have.
If you enjoy using Alexa in your home, now you can take her with you in your car. Echo Auto makes it simple to install your favorite assistant, Alexa, in your car.
And finally, a product that we use daily with our Echo Alexa products is the Kasa Smart Plugs. We use these for lamps, fans, heaters, Christmas lights at Christmas, etc. These plugs can be used with anything that plugs into the wall. Then you can program it to turn on and off with your voice or set up a schedule for it to turn on and off. I LOVE my Kasa Smart Plugs.
Want to have more fun with your Amazon Alexa products? Try out the Amazon Easter Eggs that are programmed into the Alexa products. My family has a lot of fun with them. Check some of them out in this article: https://www.techlovinmom.com/amazon-alexa-easter-eggs-your-family-will-love/.
What are your favorite Amazon Alexa products? Tell us in the comments.