I first found out about the Rocketbook Smart Notebook while touring a school as part of my job a few years ago. At the time, there was just one kind of Rocketbook called the Wave. The school provided each student with their own Rocketbook for taking notes in their classes. I was intrigued and decided to order one and see what it was all about.
This post uses affiliate links. If you click on my links, I may receive compensation at no extra cost to you. Read my disclosure policy for more info.
How the Rocketbook Smart Notebook Works
One great thing about most of the Rocketbook line of notebooks is that they are reusable. To make them reusable, you must use Pilot Erasable FriXion Pens. (Affiliate Link) The first Rocketbook I purchased was the Rocketbook Wave. It comes with one Pilot FriXion pen included. Once you fill up the Wave Notebook, you put the notebook in the microwave with a half cup of water and run the microwave for 30 seconds. The moist heat erases the ink so the notebook can be used again. The Rocketbook Wave can be erased and reused up to 5 times.
Purchase your own Rocketbook and use the coupon code FromTheFuture to receive 10% off orders totaling more than $15. Use this link to purchase: http://bit.ly/RocketbookTLM
(Affiliate Link)
Rocketbook Academic Planner
The newest Rocket book is the Rocketbook Academic Planner. This planner is designed for students and has 13 different page types. The pages are made of a synthetic blend of polyester and are treated with a coating that allows you to erase the pages very easily. You must use Pilot FriXion pens (Affiliate Link) on these as well. Within about 10-15 seconds, the ink dries and becomes bonded to the paper. To erase the page, wipe it with a moist towel and dry it thoroughly.
Rocketbook Core
The Rocketbook Everlast, now called Rocketbook Core, is a newer version of the original Wave. The Everlast/Core is reported to be endlessly reusable. You can purchase one with lined pages or dots. The Rocketbook Everlast/Core comes with one FriXion pen and one small microfiber cloth.
Rocketbook Fusion
The Rocketbook Fusion has the same type of pages as the Core and can be erased with a little bit of water and a cloth. The difference is that the Fusion has seven different page templates instead of just dots or lines. There are 42 pages with calendar, to do list, and note taking templates.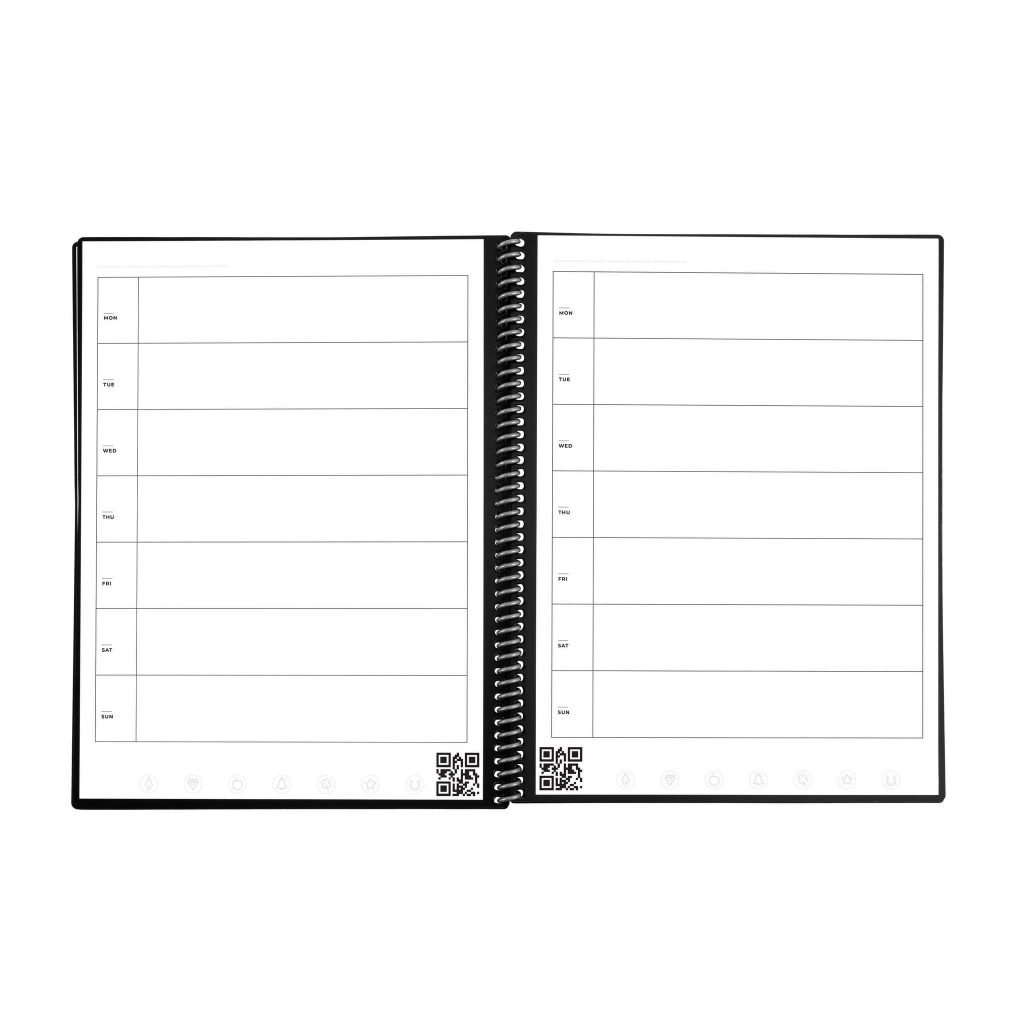 Pilot FriXion Pens
All versions of the Rocketbook come with one Pilot FriXion pen. But let's be honest, it is one of the lesser expensive Pilot FriXion pens. You will enjoy your Rocketbook more if you buy a better pen to go with it. The Pilot Erasable FriXion line is available as pens, markers, and highlighters and come in many different colors. These are erasable pens that come with erasers and will work on regular paper, but you will not need the eraser for your Rocketbook. I recently attended a session about Rocketbooks at FETC with Leslie Fisher. She highly recommends three different pens for the Rocketbook.
Rocketbook App
The Rocketbook is not only reusable but also a smart notebook. The part that makes it a smart notebook is the companion app that you use in conjunction with the notebook. The Rocketbook App is available in both the iOS App Store and Google Play. After you write your notes in your Rocketbook, you use the app to snap a picture or make a scan of your notes that are then sent to specific locations in cloud services that you already use. When you set up your app, you can decide if you want your notes to be saved as a .JPG or a .PDF. Here is an article from Rocketbook about how it works: https://getrocketbook.com/pages/how-it-works
Rocketbook Quick Start Guide: https://getrocketbook.com/blogs/news/setting-up-your-rocketbook-app-a-quickstart-guide
Supported Services
There are seven symbols at the bottom of each page in the notebook. Using the app, you can connect each symbol to a folder or subfolder in any of the supported online services. This video will show you how to set up your destinations. https://www.youtube.com/watch?v=OD19p6q2V-c After writing your notes, you mark the corresponding symbols at the bottom of the page to send the notes to the right destination when you scan the page with the app. You can send the pages to multiple locations at once by marking those locations at the bottom of the page. You can also set it to scan multiple pages. https://getrocketbook.com/pages/how-to-use-the-rocketbook-app Supported services include:
Google Drive
Dropbox
box
slack
Email
OneNote
Evernote
iCloud
iMessage
OneDrive
Trello
iMessage
Google Photos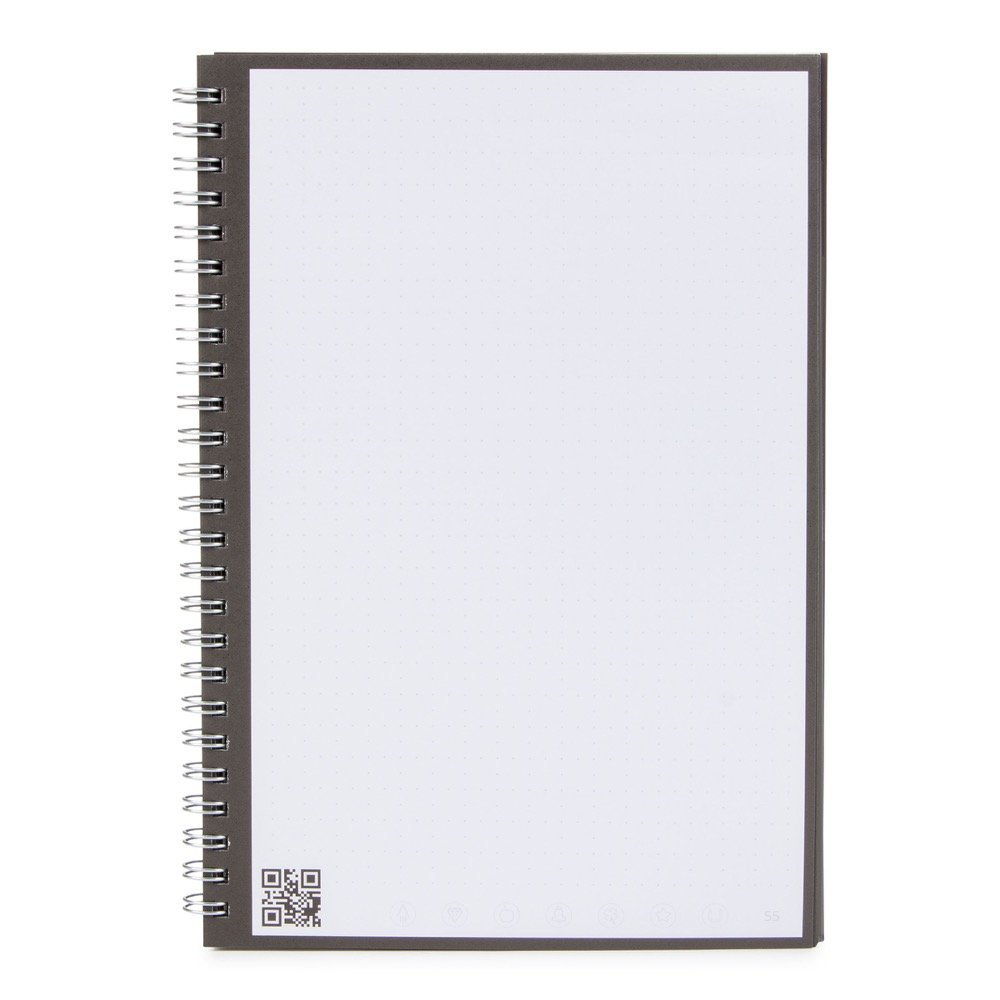 Besides sending a scanned image of your notes to your selected cloud destination, you can also set it up in the app to send your notes to be transcribed via email. You just have to turn the feature on in the settings. Turn on Handwriting Recognition OCR to use email transcription. You can also turn on Smart Search to give you the capability to search your handwritten text.
Purchase your own Rocketbook and use the coupon code FromTheFuture to receive 10% off orders totaling more than $15. Use this link to purchase: http://bit.ly/RocketbookTLM
(Affiliate Link)
Ideas for Using the Rocketbook
There are so many great ways to use the Rocketbook Smart Notebook. Students could set up folders for each subject in a cloud service and then assign each of the seven symbols to one of the subject folders in the Rocketbook app. I use my Rocketbook for a consignment business I help run. I have each of the symbols set up to send to various drive folders and email addresses so that meeting notes can go out to the appropriate people.
How would you use a Rocketbook Smart Notebook?