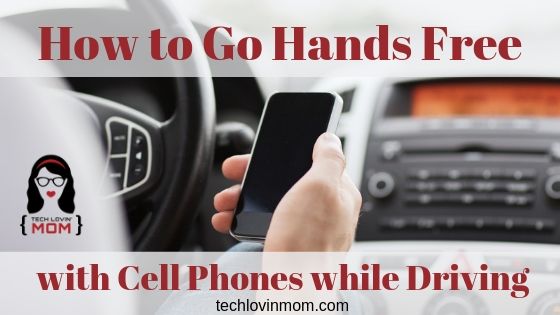 As of July 1, 2019, Tennessee became one of 20 states in the United States with a Hands Free Cell Phone Driving Law. This is not surprising since in 2018 Tennessee had the highest rate of distracted driving deaths in the entire United States. So now people all across Tennessee are tasked with figuring out how to use their cell phone in their car without breaking the law.
Check the laws for your state on the NCSL website.
This post uses affiliate links. If you click on my links, I may receive compensation at no extra cost to you. Read my disclosure policy for more info.
Hands Free Cell Phone Law
The law itself says that a driver cannot hold a cell phone with any part of their body even if they are not actively using the cell phone. The law states that a driver cannot write, send or read text messages although this has already been a law for a while. A driver cannot reach for a cell phone in a way that results in them no longer being seated or restrained by a seat belt. And it is unlawful for a driver to watch videos or movies or record videos.
Drivers can still use the GPS on the cell phone for navigation purposes. The cell phone must be mounted on the dash in some form or fashion and the driver can only use one tap or swipe to turn features on or off. But for everything else, the driver must use some kind of hands free device like headphones (in one ear), an earpiece, or a Bluetooth speaker. The law does allow drivers to use a cell phone to call authorities in the case of a true emergency.
Options for Hands Free Cell Phone Use
The safest option would be to turn off the phone or put the phone in airplane mode when getting into a vehicle to drive. iPhones running iOS 11 and above have the ability to use the "Do Not Disturb While Driving" function. To turn on this function, go to Settings and tap Do Not Disturb. Scroll down and tap Do Not Disturb While Driving. You can add text that will be sent to anyone that calls while your car is in motion alerting them that you will call them back when you get a chance. The phone then detects when you are driving and silences all calls, texts, and notifications. Androids running 4.1 and up can download an app called Driving Detective App for similar functionality. Verizon has compiled a list of apps that are supposed to reduce distracted driving due to cell phones.
If you have a newer model vehicle, you may be lucky enough to have the built-in Bluetooth speakers so that you can connect your cell phone to the speakers in your car. If you have an iPhone, you can set up Siri to wake with "Hey Siri" and then have Siri to make your phone calls. Even then, you will need some kind of mount to put your phone in since it is now against the law to hold the cell phone with any part of your body.
Here are some good choices:
A best seller on Amazon is the iOttie Easy One Touch 4 Dash & Windshield Car Mount Phone Holder. It has easy one touch lock and release and can be used on a windshield or dashboard.
My husband uses a mount that makes use of the CD player in his truck. The mount he uses has a magnet that you affix to your cell phone. Here is one on Amazon that is similar.
Here is Amazon's top 50 best sellers for Cell Phone Cradles and Mounts.
If you have an older car with no built in Bluetooth speaker, you will need a different solution. You could always just use the speakerphone on the cell phone itself. You could also use headphones with a built in microphone as long as you just use them in one ear. In the past, I have used a clip on Bluetooth speaker that I clipped to my sun visor.
This Handsfree Bluetooth Car Kit is similar to one that I had except this one includes a motion sensor to turn on when a driver enters the car. It also has Siri and Google Assistant capabilities.
Another option is this Roav Viva Pro, by Anker, Alexa-Enabled 2-Port USB Car Charger for Navigation, Voice Initiated Calling, and Music Streaming.
This one uses an FM Transmitter. It is the IMDEN Bluetooth FM Transmitter for Car, QC3.0 Wireless Bluetooth FM Radio Adapter Music Player FM Transmitter / Car Kit with Hands-free Calling and 2 USB Ports Charger Support USB Drive.
Do you live in a state with a hands free law? What do you use in your car to make sure that you can legally still use your cell phone while driving?