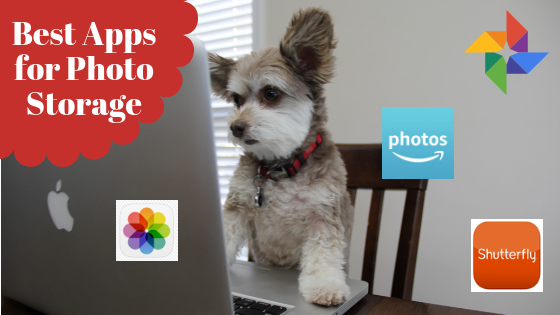 The cameras on smartphones have improved dramatically over the last few years. They are quickly becoming the camera of choice for many people. It is a camera I have with me at all times and it takes great high-resolution photos. Those high-resolution photos take up a lot of space on my phone, though. (Not to mention that I could lose all those great photos if my phone were lost, stolen or broken.) Several times, I have filled my phone with photos and videos to the point that it was so full I could no longer take pictures. And of course, that always happens at the worst time. That does not happen anymore. I discovered online photo storage where I can back up my photos and videos to cloud storage and delete them from my phone to free up space.
This post uses affiliate links. If you click on a link, I may receive compensation. Read my disclosure policy for more info.
There are lots of choices out there for online photo storage. I wanted one that would allow me to back up my photos to the cloud and then delete them from my phone so that I could continue taking pictures and videos, but without losing the ones I had already taken. After looking at lots of choices, I have found four that are very good.
The Best Overall Online Photo Storage
My favorite overall online photo storage is Google Photos. If you have a Google account, then you already have access to this great service. If you do not have a Google account, you can sign up for one for free. Then you just need to download the Google Photos app to your phone and set it up to back up your photos and free up phone space. When you set it up, you choose whether you want to backup full resolution photos (that will count against your storage allowance) or high-quality resolution photos (that do not count against your storage allowance). If you choose full resolution photo backup, just know that you have 15GB of storage across all Google apps for free, but when you go over 15GB, it costs $1.99 per month for 100GB of storage. The app has an assistant and allows you to create albums, movies, and animations. My favorite thing is that I can see every single picture I have backed up to the cloud right there on my phone in the app. And since they are in the cloud, they are not taking up space on my phone.
Amazon Photos is a Great Choice for Prime Members
If you are an Amazon Prime Member. you should consider the Amazon Photos service as it is included at no extra cost to Amazon Prime members. There are no storage limitations for this service when backing up photos from your phone through the Amazon Photos app. The app has the ability to create private sharing groups for sharing photos with friends and family as well as the ability to create albums and order photo prints and photo products. Not a Prime Member, click HERE to become a prime member. (Amazon Affiliate Link)
Use Shutterfly for Prints and Creating Crafts, Gifts, Etc.
Shutterfly is known for a great website to order prints, photo cards, calendars and other photo gifts. It is also a great place to back up your photos from your phone through the Shutterfly app. Shutterfly offers free, unlimited storage of photos. Once the photos are uploaded, you can then print them or create photo cards, calendars, photo albums, and all kinds of gifts and crafts. When you upload your photos, Shutterfly allows the creation of albums to organize your photos and it has lite editing tools. One of the biggest perk of the Shutterfly app is that it allows for unlimited printing of 4×4 and 4×6 photos. You just pay shipping and handling. Another new perk of the Shutterfly app is one FREE photo book per month. These are 6×6 in size with a soft cover and 40 pages. Again, you just pay shipping and handling.
The iPhone Photo Library is Great for iPhone Owners
If you own an iPhone and pay extra for the iCloud backup, then it just makes sense to use the iCloud back up for your Photo Library on your iPhone. I only use iCloud for the back up of my Contacts and Notes since only the first 5GB are free. But it is only 0.99 for 50GB of storage if you want to use it to back up your entire phone including your photos. One downside may be that these photos are actually synced and not a true back up. If you delete a photo from your phone, it will delete it from your back up and vice versa. You can turn on the photos Storage Optimization option that will turn the photos stored on your phone into thumbnails to save storage on your phone.
A Word of Advice
It is a good idea to perform the first back up of your photos to one of these online cloud photo storage solutions while you have a WiFi connection, especially if you have a large number of photos to backup or you have limited cell data for your phone. And then after that backup, you could turn back on the backup over cellular data function so that all photos taken from then on are instantly backed up.
Which App Will You Use?